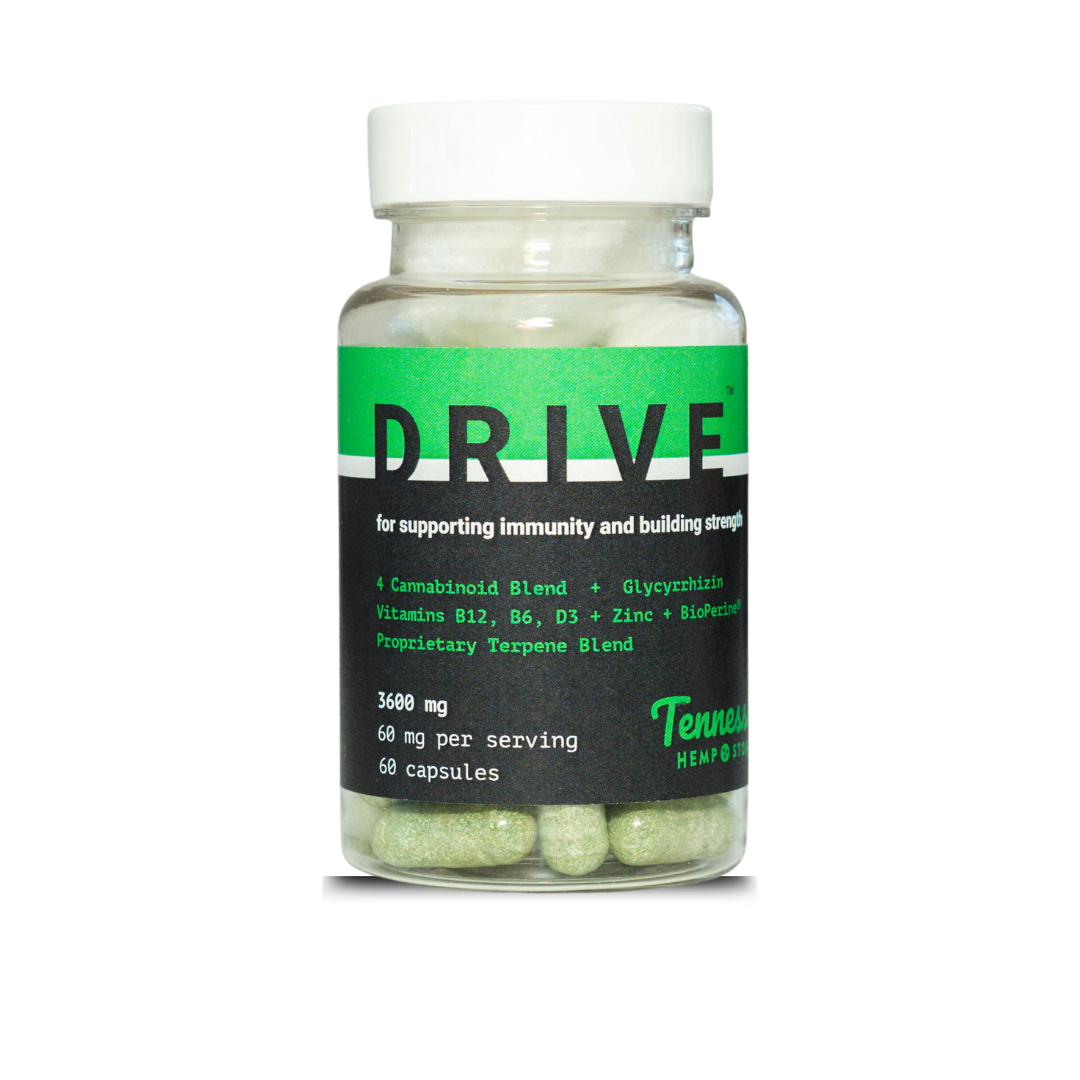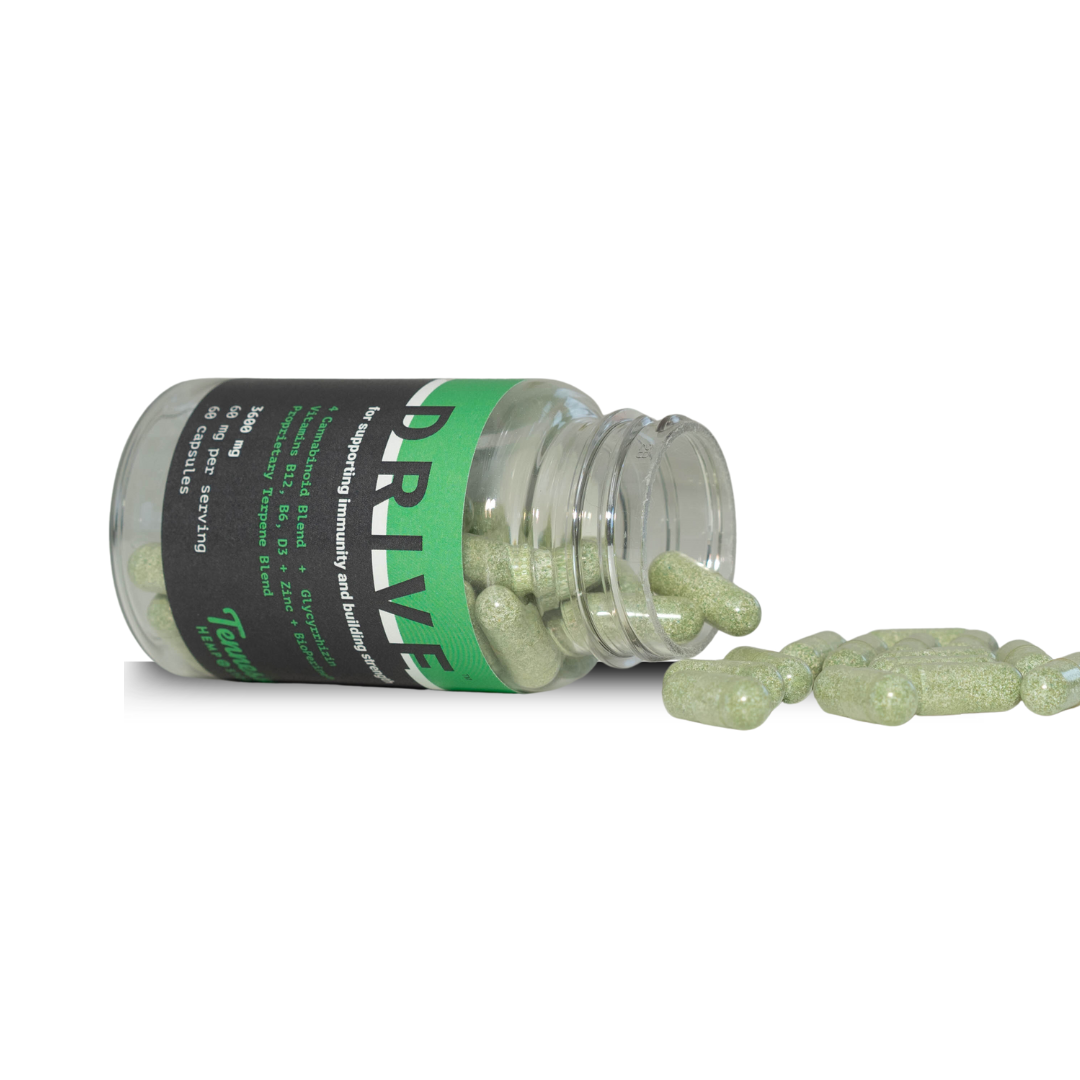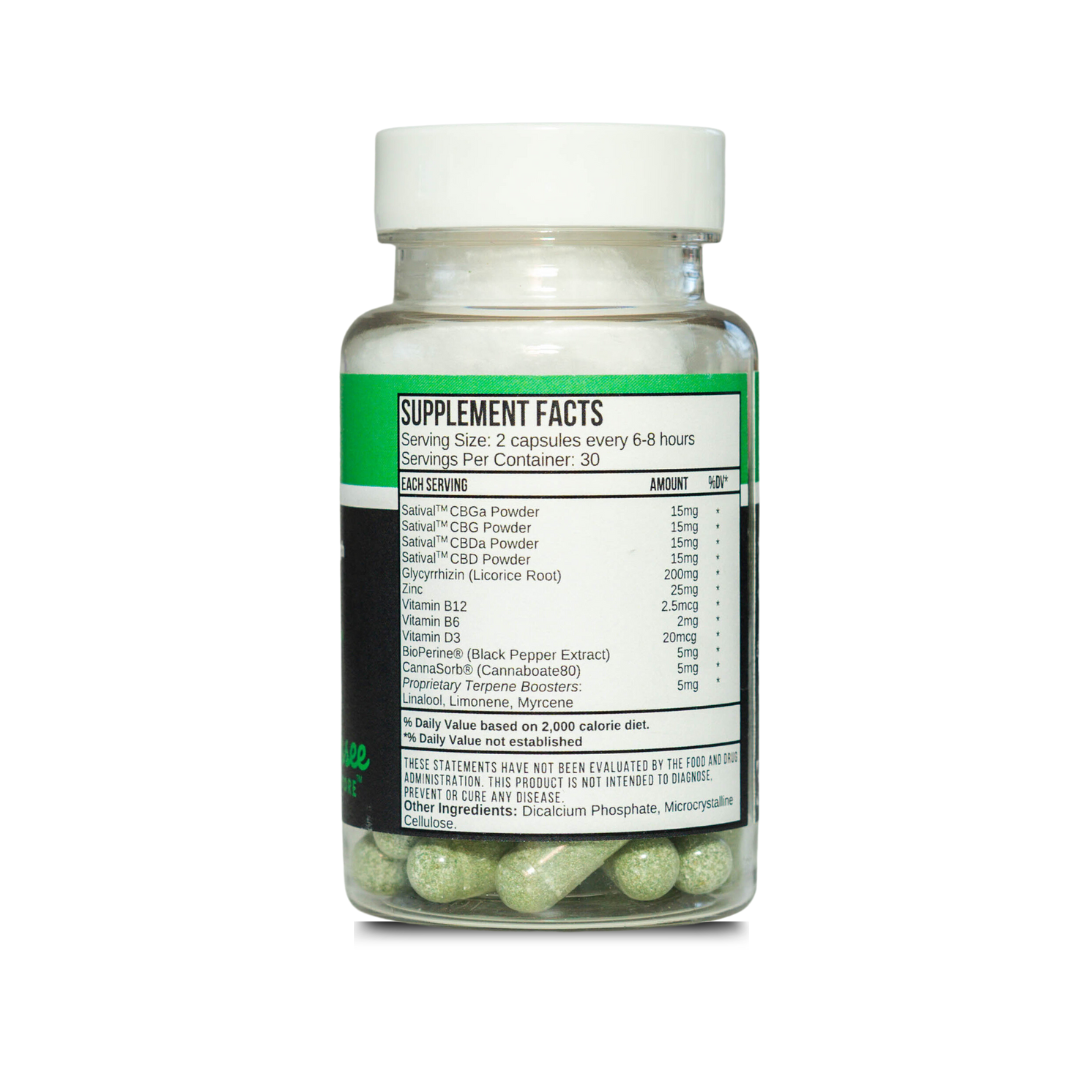 Drive Capsules for Immunity and Strength
Sale price
$43.50
Regular price
$87.00
We all need a little more resilience, a little more grit. Well, DRIVE is formulated to give you just that.
We've developed an exciting blend of acidic cannabinoids where we have combined 4 different hemp extracts together to achieve a 1:1:1:1 ratio of 15mg of CBDa, CBGa, CBD, and CBG. Add to that Vitamins D3, B12, B6 along with zinc, and we have a powerful, vitality-boosting combination designed to make your body feel good and stay strong. We've added Licorice Root Extract, which may have potent antioxidant, anti-inflammatory, and antimicrobial effects, and a proprietary terpene mix of Myrcene, Limonene, and Linalool. Top it all off with special ingredients designed to increase bioavailability, and we have a powerful combo for boosting immunity and strength!
Capsules are sugar free, easy to swallow, and plant based. Proudly made in Tennessee and third-party lab tested.
DRIVE is part one of a three-part, daily supplement line by Tennessee Hemp Store.
60 mg per Serving
60 Capsules per Container
30 Servings per Container
Dear Valued Customer,
We want to ensure a secure and compliant shopping experience for all our valued Tennessee residents. Therefore, we are required by state law to implement a mandatory identity verification process before finalizing your order.
To comply with these regulations and to safeguard your personal information, we kindly request you to call our customer support team at 731-991-3905. Our friendly representative will efficiently guide you through a quick verification process to confirm your identity.
We understand that this additional step may cause a slight delay in the order processing, but rest assured, it's in the best interest of protecting you from potential fraudulent activities.
Once the identity verification is successfully completed, we will promptly proceed with processing your order. Shortly after, you will receive a confirmation email containing all the details of your purchase.
We sincerely apologize for any inconvenience this may cause, and we genuinely appreciate your understanding and cooperation in adhering to the state regulations. If you have any questions or require further assistance, please don't hesitate to reach out to our customer support team.
Thank you for being a valued Tennessee resident customer, and we look forward to serving you soon!
Best regards,
Tennessee Hemp Store Team
Drive Capsules for Immunity and Strength
*These testimonials and reviews are for informational purposes only. The information is not a substitute for expert medical care. Testimonials and reviews are written by actual customers and represent their own observations. These observations are not guaranteed and not medically substantiated and may not be typical for other customers.
Ingredients
Directions
Additional Information
Shipping & Return
See Nutritional Supplement Label for Complete Details

CANNABINOIDS
15mg Satival CBGa and CBG
15mg Satival CBDa with CBD
~1mg Delta 9 THC

VITAMINS
20mcg Vitamin D3
2.5mcg Vitamin B12
2mg Vitamin B6
20mg Zinc

BOOSTERS
100mg Licorice Root Extract
5mg BioPerine Black Pepper Extract
5mg CannaSorb (Cannaboate80)

PROPRIETARY TERPENE BLEND 5mg
Satival Myrcene
Satival Limonene
Satival Linalool

OTHER INGREDIENTS
Dicalcium Phosphate, Microcrystalline Cellulose
Take two capsules every 6 to 8 hours.
• Plant Based
• This product contains THC derived from hemp under the legal limit 0.3%.
• Federal Farm Bill Compliant and Legal in Most States
• Third-Party Laboratory Tested To Ensure Quality & Compliance
• Adult Use Only; Must be 21 Years or Older to Purchase
SHIPPING
$7 FLAT RATE SHIPPING
All orders will be shipped with USPS Priority Mail within 1-3 business days from the date when order is placed. We currently ship within the United States only and we do not ship to the following states for legal reasons: SD, ID, MS.
Transactions are labeled as AA HEMP on any statements.
CANCELLATIONS
Orders canceled prior to shipping will be refunded the full cost of the order minus 5% transaction processing fee. 
REFUNDS
We guarantee that the quality of all our merchandise will meet or exceed expectations. If for any reason you are not completely satisfied with your purchase, you may return any item in its original condition within 30 days of receipt and we will gladly provide a refund, replacement, or an exchange.
To qualify for a refund, replacement or exchange, your item must be unused and in the same condition as received and must be in the original packaging within 30 days of receipt.
Please contact us either by email or phone to receive the return instructions.
A package without proper return authorization will not be accepted for refund.